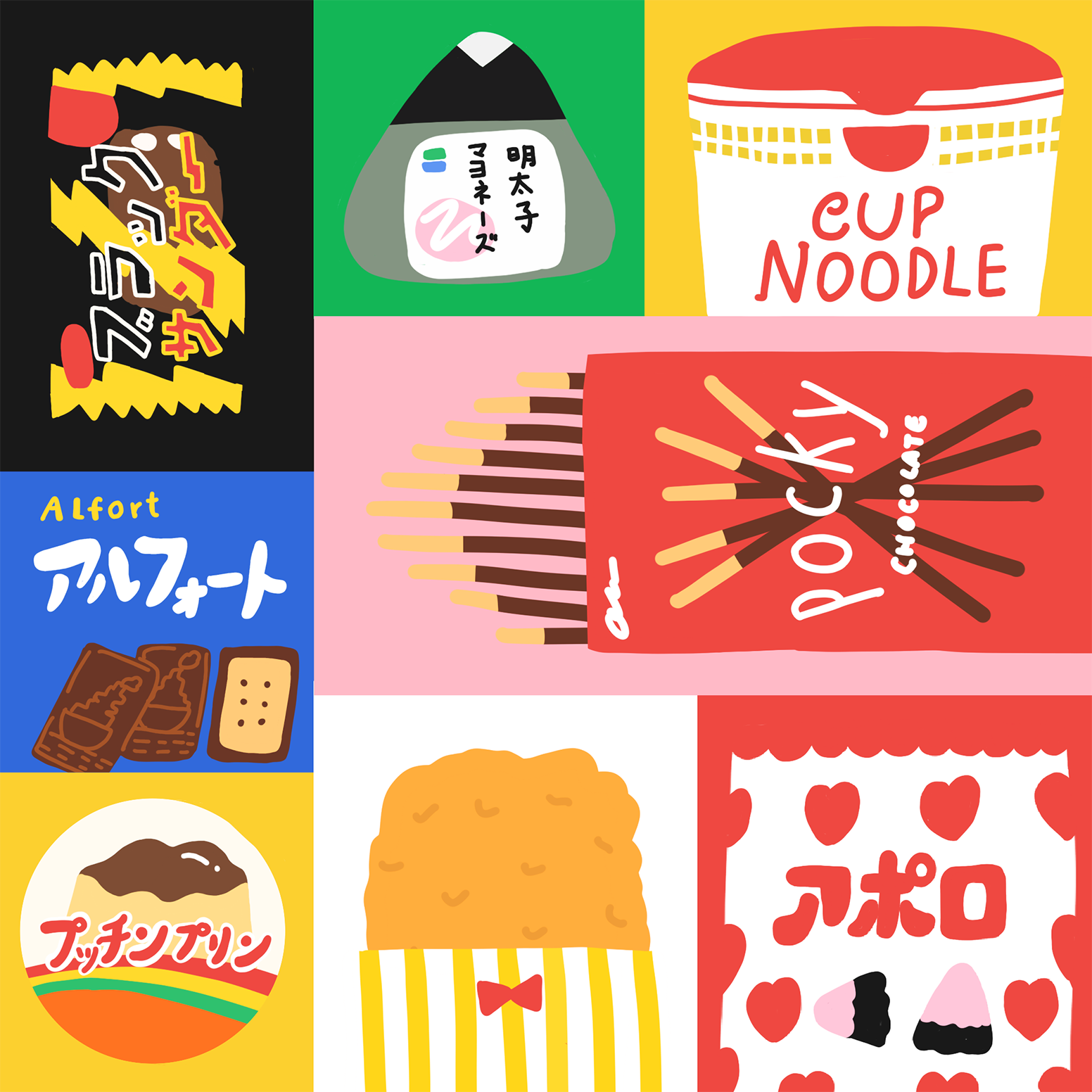 How I ended up in‌ Japan
+ tips for people interested in moving here!
Some of you have been curious about what it is like to live in Tokyo, and how I decided to move here. I hope to share some of my thought processes and planning before making the move, and also some tips that will make the move a little smoother.
Two things first! I know this is not the best time to move or even think of travelling to another country. Many overseas students from my school have been advised to postpone their study plans due to the current situation. If you are interested in moving overseas in the future, bookmark this post and read it again next time. Also, these are my personal thoughts and experiences and it might be different for another person. I hope you will enjoy reading it and if it is useful for you – great!‌ 🙂
Let's start from the very beginning
I started to harbour the thought of furthering my studies when I was about 22 years old. I was working as a full-time graphic designer then and I felt eager to learn more things. The works that I have designed as a graphic designer were mainly applied to print collaterals and I felt like I could explore more ways of applying designs to different kinds of products. That is when I started having an interest in Textile and Surface Design.
After getting ahold of what I wanted to pursue, I started researching for schools that were suitable for me.‌ I did consider studying locally, but I was getting excited about the idea of studying overseas and living independently for a change.
An unfortunate yet fortunate event
Here comes a part that many people do not really know about. (Jeng jeng jeng!) Studying in the Netherlands was actually my first pick. The design school there was really cool, had awesome textile facilities, school fees were reasonable and the students had many great works. Plus the thought of being able to live in Europe – what a dream it was for me! I sent my portfolio to them in hopes to enter the next student year. A month later, I received a rejection e-mail from school when I was at work. The rejection hit me in the gut and I really thought then that I should just stop pursuing all of this and get back to work.
The next month, I went on a Europe trip with a friend and we were about to stop in Amsterdam for two days. My original plan was to visit the school and experience how it might be like to live there, but since that plan dissolved we just went sightseeing. Being there and facing what could be though, was strangely healing.
Funnily enough, when I was in Amsterdam I started reminiscing the time I stayed in Hokkaido and Tokyo for three months.‌ It was my first time travelling solo but I made many good friends and had such a great time. Everything in Japan fascinated me and I had many of my firsts there. My first snow, my first hot drink vending machine, my first bidet experience. 😀 Despite the language barrier, I remembered how comfortable I felt living there.
The right place at the right time
Coming back from my trip, I was determined to give studying abroad one last shot. Striking off the Netherlands, I looked at the options I had in mind that are left – England, or Japan? I started weighing out the pros and cons.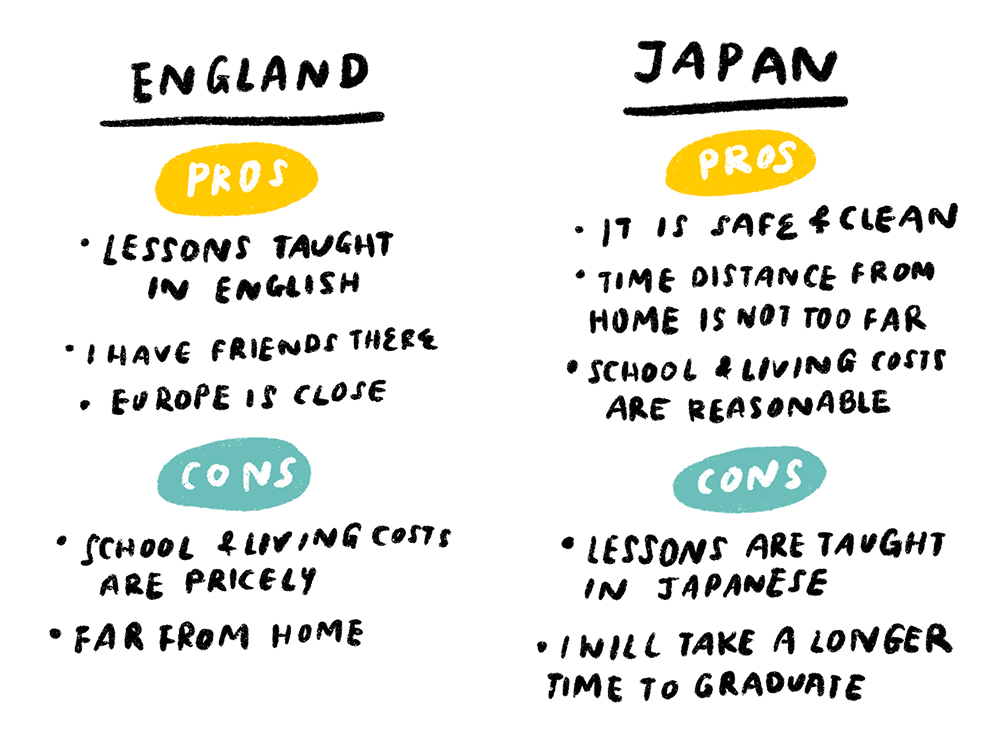 Both countries have great push factors as well as pull factors. If I choose England, I will not have enough funds to study in London as the costs are high and would need to either get a loan or do my best to get a scholarship. If I choose Japan, I would have to grasp Japanese well as studying in school would require a good understanding of the language. I started to ask myself honest questions – Which place can I grow better in? Where do I see myself after graduation? What experience do I want?
After reviewing the pros and cons and thinking about a whoooole lot, Japan felt right to me. The reasonable living costs and study fees and it being not quite too far from home played a big part in my decision. Although there was a big obstacle to learn Japanese well, I have always been interested in the language and was excited to learn it. (Side story: My sister and I basically grew up watching anime when we were kids. Slam Dunk is still hands down my favourite Anime yet!) I was also very interested to learn more about the rich history of textile design in Japan – from dyeing techniques like indigo dyeing to intricate kimono designs woven by hand, and traditional printing on the tenugui (Japanese hand towels). I could name many more reasons why I decided to move to Japan (don't even get me started on my love for the food here), but simply put I felt like Japan had a lot to offer and it just felt like the right time and place then.
Choose your own adventure
That is the (long) story of why I decided to move to Japan. Some people tell me, "How lucky you are to live in Tokyo!" or "I too wish that I could live here, but…" Although I am always thankful and appreciative that I could live here, it is not just about luck, it is also about making the first move. I believe that we all have different circumstances and life situations we have to deal with, but if you are keen on living overseas as an experience, find ways to make it work for you. Keep an eye out for scholarships and grants, or find a part-time job to help you with living costs when you are studying. If you would like to experience living in another country for a short while, check out if you are eligible for working holiday visas or apply for a homestay. There are also volunteer exchange programmes like WWOOFing in Japan and in many other countries where you can help organic farms or eco-villages in return for accommodation and meals. Choose your own adventure, and take the first step. There will be good times and bad times, but the experience will be uniquely yours and yours only.
Alright enough about me – here are some tips to help you with moving to Japan!
・・・・・・・・・・・・・・・・・・・・・・・・・・

Tip 1: Learn Japanese and prep before your move
So you've decided to make the move to Japan – sweet! If you are still a beginner or do not understand Japanese yet, people usually start with doing a year of Japanese language studies before applying for a school, or job in Japan. You can also do it in your home country, but learning Japanese here in Japan itself helped me improve much more quickly as the environment encouraged me to use the language. To get into a school or find a decent job, the basic requirement is an N2 in the Japanese Language Proficiency Test (JLPT). Even if your course or job might not require you to speak business-level Japanese, I suggest that you should still consider learning the language as it will be very useful in daily life. It will help you to read menus and station signs, say greetings like a pro, and possibly create more connections and opportunities for you in Japan. There are many schools and classes available and it might take a while to find out which school fits you and your purpose.
You can also make a rough plan on the schools you would like to apply for after learning the language. I had three schools in mind that offered the course that I wanted and eventually chose to apply at Bunka Fashion College.
Before you arrive, get all the necessary documents and visas sorted. If you apply for a school and get accepted, they will usually send you a list of things to do and guide you with the things you will need to prepare for. If you are worried that you missed anything, try visiting your local Japanese embassy.
Tip 2: Find an apartment that suits you and your needs
House hunting in Japan is quite a pain and might depend on a stroke of luck. Some people reserve apartments prior to their move like me, and some start finding their accommodation once they arrive. Both ways are a little risky – if you sign a contract before seeing the apartment, there is a chance that it might not be what you expected, or you might not like the location. If you only start finding an apartment when you arrive, it might take a long time to find a place suitable and you might be pressed to choose whatever that is available at that time.
If you are someone who is practical and does not want to fret about finding accommodation, applying for a room in a student dormitory is the easiest way. Consult your school to find out if they offer dormitories for their students. If you will be working in Japan, find out if your company will provide accommodation for you or if they have any recommendations. Share houses (Having a room of your own but sharing a living space with other companions) are also popular in Japan and a lot of them welcome foreigners. Who knows, you might be able to have your own Terrace House experience with your housemates!
Here is my personal advice on finding your first house in Japan. Try to find a place that is near to your school/ job, or live a few stations away on the same line. It will save on transport costs and the hassle of riding on the peak hour trains for a long period of time. Also, check if the supermarket and convenience store are within walking distance so that you can buy groceries easily or satisfy a quick midnight snack. Make sure that you feel safe and comfortable in the neighbourhood too. Do some research on the top neighbourhoods where people would like to live in each city and the reasons why. It all depends on your personal preferences in the end – whether you'd like to live in a a bustling neighbourhood with access to good cafes and restaurants, or live somewhere quiet where you can unwind peacefully at the end of the day. Although you would like to find a place within your budget, try not to shortchange yourself and live in a place where you do not feel comfortable in. You might save some cash, but it is not wise if you feel mentally drained or unhappy in the place you would spend the most time in.
Tip 3: Cook when you can, and also indulge when you can!
I feel embarrassed to say this, but I only started learning how to cook when I moved to Japan. *gets goosebumps from my own words* 23 years old and I never made my own meal! Holding the knife and stir-frying with the pan gave me the chills – am I really capable of making myself an edible meal? Needless to say, the first miso soup that I tried to make was an epic salty fail, and once I made my friends chew for 5 minutes on a single beef rib (tried to make beef rendang) and almost broke their jaws. After some practice and watching lots of Cooking with Dog on youtube, I started getting better and could make myself some simple meals. Cooking your own meals will help you save quite a bit of your money and you can make meals reminiscent of your home town when you get a little homesick.
With that said, you are in Japan. The land of good food – how can you not miss out on eating your heart out here? As someone who is always hungry, I like to indulge in a good meal when I can. Tokyo has a wide map of restaurants that do not just provide delicious Japanese food, but also amazing Thai, Korean, and Szechuan Chinese food. If you are a sweet tooth, where do I even begin? 🙂 If you feel like giving yourself a good meal once in a while, you should definitely do it while you're living here.
Tip 4: Making mistakes is part of the experience
The fastest way to learn how to speak Japanese or learn Japanese culture is by being brave enough to make mistakes. There might be some laughs and confused faces while at it, but you will also receive constructive feedback from friends and learn by personal experience what is right or wrong.
There was an incident where I was eating a piece of fried croquette on the train. In Japan, it is okay to drink or eat in the trains (or at least, there were no signs stating that you can't). However, my Japanese classmate scowled at me and told me to stop it. I kept asking myself, why did she get so angry? And when I consulted some friends, we came to the conclusion that there is probably an invisible rule in regards to eating on the train – even though it might be allowed, you shouldn't be eating something that has a strong smell as it that would be a hindrance to others. It boggled me and it took me a while to practise "空気を読める"(kuuki wo yomeru), which means to "read the air", or "use your most obvious common sense" and across my daily life in Japan. Thinking about how I would dare to eat a croquette on a Japanese train now makes me laugh, but I wouldn't have learnt about all these little invisible rules and other cultural differences if I hadn't made mistakes.
Tip 5: To live here was your dream, but the reality might wake you up
The grass is greener than the other side, but is it more delicious? One of the toughest things to face in Japan is when your longtime dream of moving to this magical place doesn't seem so nice anymore when reality hits. Though there will be a lot of very good days, there will equally be tough days. Sometimes you might feel like certain cultural differences do not resonate with you, sometimes living alone in a foreign country makes you feel so alone, sometimes you do not understand why people cannot understand you. I'm not trying to say Japan is a bad or terrible place to live in, no, we just need to realize that we cannot put it on a pedestal and expect life here to be perfect every day. Ultimately, we need to understand that life here will not be the same as when you visited as a tourist. Every country has its quirks and we will be put to hard situations sometimes.

This is important because it is really easy to blame your problems on the country. But once you do it too often, you might start disliking your time here. Sometimes, it might just be our unrealistic expectations placed before we moved to Japan. I felt so much better once I let go of some of my expectations and it got easier going through the hard times I understand how the country works.
I also have to say that a good support system can make these times so much better. I had a group of friends who were living in Japan like me and we helped each other through tough situations and grew so much together. They were like my family and it really helps to have some company when I came here alone. Of course, the good times were also very much celebrated as a group, with hanami parties and late-night convenience store picnics at a nearby park. Simple memories like these really encouraged me and helped me to get by.
・・・・・・・・・・・・・・・・・・・・・・・・・・
Living abroad is everyone's own unique experience. You might or most probably will find other ways for you to familiarise yourself with the country and settle down. When you decide to make the move, I wish you all the best! Below are some useful websites to find more information. Thank you for reading and if you have any questions, feel free to comment below.

Useful Websites
Tokyo Cheapo
gaijinpot
Metropolis Japan